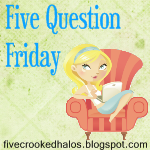 1.
What is one food you could eat everyday?
2.
Are you working in the career you thought you would be when you were 18?
Nope...from K til graduation I was going to be a teacher. I went to college majored in Secondary Education. Two years in I totally changed my mind and changed my major. So... But I am starting to homeschool my daughter here in the fall so in a way I guess I'm going to teach after all. I just won't get paid for it.
3.
What is something that you wish you would have done when you were younger and you didn't?
I wish I had been a foreign exchange student to Denmark. I wanted to but it cost a lot and so my parents didn't want to pay for it and I was too scared to push for it so it didn't happen but I always wish I had.
4.
What color are your kitchen walls?
5. Do you remember what your very first favorite song was?
Not really...but in junior high I listened to a lot of country & I had a cassette tape "Heart of Rock" that I listened to over & over. I loved "Let's Hear it for the Boy" by Deniece Williams for awhile. And "She's in Love with the Boy" by Trisha Yearwood.