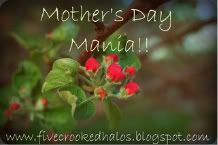 MamaM
is having a Mother's Day Blog hop for the next 5 days. Thought I'd give it a go. Today is "Whoopsie Wednesday" My goodness...what mom hasn't had some parenting whoopsies? Except maybe the one who is just now looking into her firstborn's eyes at the hospital & vowing she'll never let anything remotely dangerous happen to her child. We all know how that will turn out. :)
There have been a few 'whoopsies' in my life...we've had our share of bumped heads & wedding ring scratches. I never cut a baby's finger nails again after the first time clipping my firstborn's. And I certainly wouldn't claim to be mother-of-the-year material...but over-all I think I'm a pretty good mom...I love my kids, I talk to them; I hug them; I tell them how special they are.
However-- I do have one BIG 'whoopsie' moment that I still tremble over when I think about it. It happened a couple years ago when our 2nd born (Jasmine) was just a few months old. We had been shopping at the mall with my sister-in-law's family all day and were at our last stop. I had forgotten something in our vehicle so I took the baby with me as I ran back out to the van. My oldest (Eden) was with my husband and all the cousins. I sat the car seat down as I unlocked the van, grabbed whatever it was I had forgotten and then I ran back into the store. I get just inside when I saw my sister-in-law. She says, "Where's the baby?" OH CRAP! I panic! I had left her in her carseat outside by the van! I ran as fast as I could back out the door...she was still sitting there and an older lady, her daughter & her granddaughter were standing there making sure she was okay. I cannot begin to tell you how stupid, careless, & HORRIBLE I felt...not to mention embarrassed & shook up! It took an hour for my heart rate to slow down after that...I just kept thanking God that she was okay.
That was the biggest whoopsie I have ever had and hopefully ever will. Thank God for mercy & grace during these crazy young parenting years.